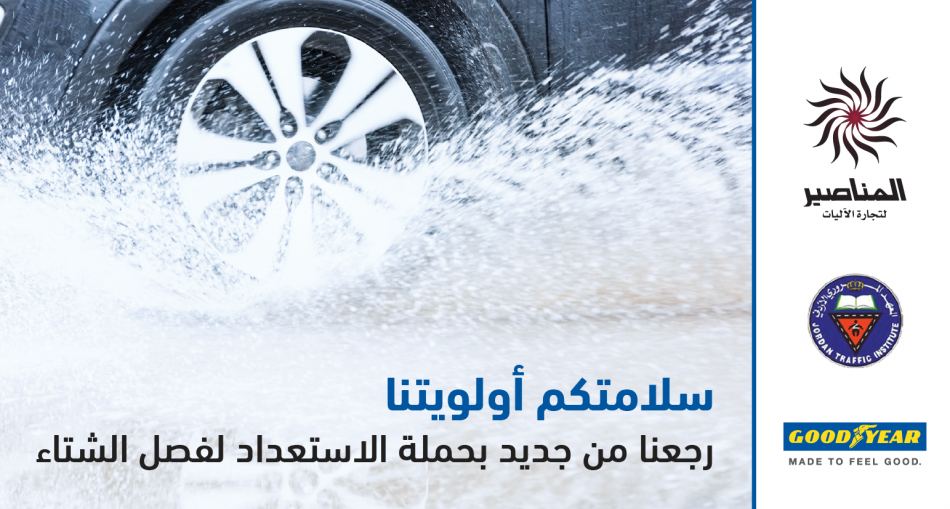 Manaseer Machinery Trading Co. Organizes a Campaign Entitled "the Winterization", in Cooperation with the Jordan Traffic Institute
Manaseer Machinery Trading Company, in cooperation with the Jordan Traffic Institute, announced the launching of a campaign entitled "the Winterization" for two consecutive days, Tuesday and Wednesday, corresponding to 3 and 4/10/2017, at Manaseer Oil and Gas Station-the Airport Road 2-towards the Seventh Circle.
The Winterization Campaign will cover free check of vehicles, including the inspection of tires, batteries and lights, the verification of the windshield wipers, granting numerous valuable awards, besides the potential opportunities to win cards for fuels filling.
The Director of Tires Department at Manaseer Machinery Trading Company, Mr. Mahmoud Naser stressed the great significance of the concerned campaigns which aim to create awareness among citizens in light of the urgent need to check their vehicles before winter arrived, owing to the significant role in ensuring the safety of drivers and people passing by on the street.
The concerned campaign is not deemed the first of its kind, since the Manaseer Machinery Trading Co. is accustomed to creating similar campaigns in different times and places, with the presence of the optimal experts from several brands, most prominently the Goodyear Tires Co. with a view to ensuring the safety of citizens.